The Westin Afternoon Tea
Served on Monday to Saturday from 2:30PM - 5PM Heavenlies now takes the traditional afternoon tea to new levels with a creative buffet offering over 40 delicate, handmade petit cakes, savories and pastries served with a selection of loose leaf teas varieties or Champagne while incorporating Superfoods. Superfoods are known for being health-enhancing and rich in antioxidants and phytonutrients. Superfoods are specific fruits, vegetables, grains and proteins that are known to improve well-being and longevity.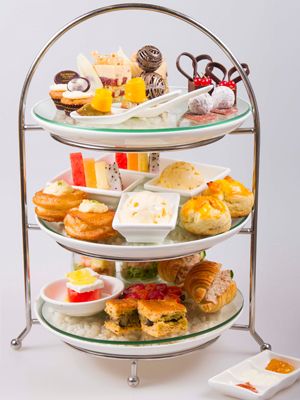 Afternoon Tea Menu
sweet
mini carrot cup cake
pistachio francaises with fresh mango
white chocolate and red currant tart
key lime cream cronut
caramel chocolate praline
banana and strawberry cake
apricot jam
clotted cream
apricot scones
seasonal fruit
passion fruit and peach ice cream
savory
pumpernickel sandwich with cream cheese, tomato and sprouts
tomato focaccia with grilled vegetables, basil pesto and rocket lettuce
mini croissant with creamy tuna mayonnaise, cucumber and watercress
prawn cocktail with pineapple and salmon caviar
watermelon with feta cheese, thyme, tomato and olive vinaigrette
*Served with premium loose leaf tea varieties or freshly ground coffee.
RMB 368 per set for 2 persons or add a glass of Veuve Clicquot Champagne for RMB 98.